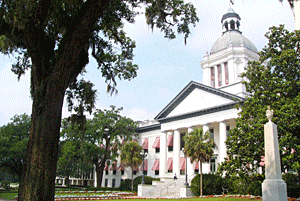 Since 1845, the Historic Capitol has symbolized Florida state government. Restored to its 1902 appearance, the Historic Capitol stands as an icon at the center of Florida's Capitol complex; the modern-day nerve center of Sunshine State government. Under the stained-glass dome, political history and tradition come alive in the exhibits.
Through photographs, recordings, and audiovisual displays, visitors experience the people and events that have shaped today's Florida. Restored areas include the 1902 Governor's office and chambers of the House of Representatives, Senate, and Supreme Court. Together with exhibit panels, photographs, and interactive multimedia, the museum offers a journey through the colorful history of representative government in Florida. More than 250 artifacts in 21 rooms invite visitors to trace the evolution of Florida government from territorial days to the present.
---
The Florida Historic Capitol Museum serves to illuminate the past, present, and future connections between the people of Florida and their political institutions through programs of civic education, historic interpretation, and preservation.
---
Tallahassee was chosen as the territorial capital in 1824. The first territorial government met in log cabins. A capitol building was constructed in 1826 but never completely finished. It was torn down in 1839 for the construction of the present structure, which was completed in 1845, just prior to Florida's entry into the Union as the 27th state. Additions to the Historic Capitol were made several times throughout the years. Architect Frank Millburn, who added the classical style dome, made the first expansion in 1902. The 1923 additions by Henry Klutho included two new wings and a marble interior. Finally large wings for the House and Senate chambers were added to the north and south ends of the building in 1936 and 1947, respectively.
Threatened with demolition in the late 1970s when the new capitol was built, The Historic Capitol was saved through citizens' action and was restored to its 1902 appearance. Architectural highlights include the elaborate art glass dome, red and white striped awnings, and a representation of the Florida State Seal over the entry columns. The restoration of The Old Capitol (1978—1982) was conducted under the supervision of the Department of General Services in conjunction with the Department of State. This intensive project of historical and archaeological investigation makes Florida's former capitol one of the most thoroughly documented restoration projects in the nation.
---
The
Historic Capitol Brochure
is in the PDF format, which requires the free
Acrobat Reader
.
---
Museum Director, Tiffany Baker
Director of Research & Programming, Rachel Basan Porter
Director of External Relations, Suzanne Corbin
Program Coordinator, Kelly Goddard
Collections Coordinator, Stephanie Null
Education Coordinator, Blake Hicks
Exhibits Manager, Amber Soderholm
Visitor Services & Event Manager, Carol Wynn
Office Manager, Katie Silcox
Florida Historic Capitol Museum Staff may be contacted at 850-487-1902 or info@flhistoriccapitol.gov.