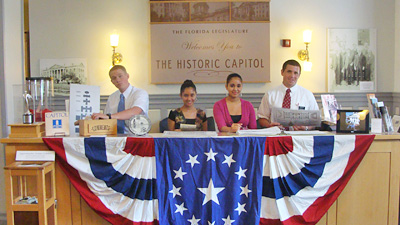 Historic Capitol Volunteers greet visitors and provide information about the Historic Capitol, its history, our programs, and general visitor information about Tallahassee and Florida. Hours are flexible. Parking and training are provided.
High School students
College students
Working adults
Retired adults
Make new friends
Learn new skills
Serve the community
Gain valuable experience
Fulfill Florida Bright Futures and International Baccalaureate Program Service Requirements
Supplement your academic curriculum
Participate in the excitement of Florida's Legislative Session
Greeter – be the first contact for our visitors
Docent – provide guided tours of the Historic Capitol
Researcher – dig deeper into a topic in Florida's political history
Educational Program Specialist – help teach Florida's children about this important site
Public Relations Assistant – do graphic design work, draft copy for newsletters, etc.
Collections Assistant – organize archival, photographic, and artifact collections
Need to fulfill an internship requirement?
Work with us to design an individualized project that meets your educational goals and assists the Florida Historic Capitol Museum. This internship is open to undergraduates and graduate students. Please submit a completed volunteer application, a resume, a brief statement of purpose describing your interest in interning with the Florida Historic Capitol Museum (1 page or less), 3 references (at least one professional) and a writing sample. Please note that this is an unpaid internship.
Contact Carol Wynn at: info@flhistoriccapitol.gov or (850) 487-1902