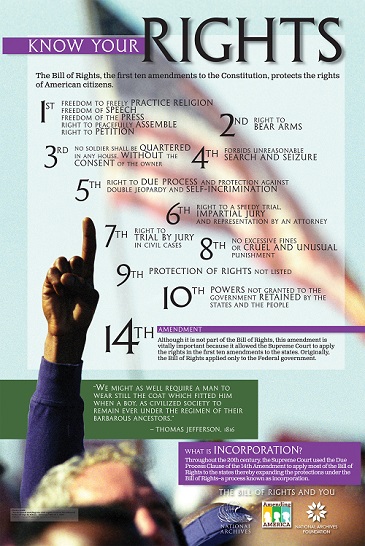 It's been 225 years since the newly formed United States adopted the Bill of Rights, the first ten amendments to the Constitution. In honor of this milestone, the Florida Historic Capitol Museum is hosting the pop-up exhibit The Bill of Rights and You.
Spotlighting one of the most remarkable periods in American history, the pop-up exhibit contains simple messages conveying the importance of the Bill of Rights, its history and implementation, and its impact today. Three additional copies of the exhibit will be on display in various Leon County School on a rotating basis.
The Bill of Rights and You is part of the National Archive's Amending America, a national initiative exploring the power of the Bill of Rights and our enduring system of government. The Amending America exhibit highlights the remarkably American story of how we have amended, or attempted to amend, the Constitution in order to form a nation that more closely mirrors our ideals. For more on the initiative and additional resources visit https://www.archives.gov/amending-america.
The constitution of the United States has been amended 27 times. If that seems like a lot, consider that since 1787 there have been more than 11,000 proposed Constitutional amendments introduced in the United States Congress that have not passed. The Current Amending America exhibit at the National Archives highlights this via a lengthy banner listing by decade all the amendments proposed in Congress from 1789-2014.
Click here to see large size Know Your Rights poster.