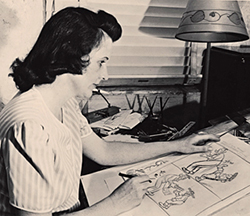 The Florida Historic Capitol Museum is pleased to host Anne Mergen: Florida Cartoons opening on March 12, 2013. This temporary traveling exhibit, produced by HistoryMiami, features the work of editorial cartoonist Anne Mergen. Since 1754, and the publishing of Benjamin Franklin's "Join or Die" cartoon, editorial cartoons have played an integral role in our understanding of American political landscapes. Editorial cartoons have the unique ability to bring both understanding and context to a political argument and serve as highly effective tools of persuasion. Come explore the impact of Anne Mergen's work on Florida politics.
Anne Mergen began her career in 1933 at the Miami Daily News in the male-dominated field of editorial cartoons. Her coverage of both political and social issues affecting the citizens of Florida, particularly those in Miami, quickly gained her the respect of colleagues and the patronage of loyal readers. As one of the first female cartoonists in the nation, she balanced a career and family producing over 7,000 cartoons from 1933-1956, gaining national recognition which helped open the field to other female cartoonists. The exhibit includes forty-two original Mergen cartoons, from the late 1940s through the 1950s, covering topics ranging from environmental issues to tourism and city government.
Anne Mergen drawing at her home in Miami, FL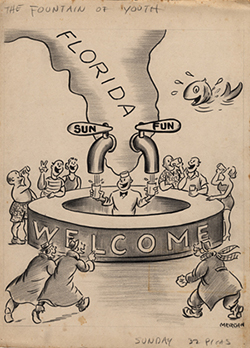 We invite you to trace the power of the editorial cartoon and the legacy of Anne Mergen on Florida cartooning by exploring the work of other prominent Florida cartoonists featured in the exhibit. The cartoons of this exhibit will provide our visitors the opportunity to learn how these artists portrayed Floridians' concerns over six decades and how these issues have shaped Florida politics.
Fountain of Youth by Anne Mergen Collection of HistoryMiami
The Florida Historic Capitol Museum invites you to join us as we offer visitors the unique opportunity to view an historically-significant collection in a world-class setting.
Exhibition organized by HistoryMiami
Anne Mergen: Florida Cartoons
Closing Curator's Tour
Friday, July 19, 2013, 11:00 a.m.
For the past 40 years native Floridians Michael W. and Dr. Linda Fisher have assembled a museum quality private collection of historic prints and maps. These images are depicted through woodcuts, engravings, etchings and stone lithographs portraying contemporaneously an individual, event or place associated with Florida. The Jacksonville based collection features more than 600 items ranging from the 15th century to the early 20th century. At the heart of the collection is the history of Florida and when pieced together, like a 12-sheet map, a story of La Florida emerges. Fond of history, mystery, art and fine craftsmanship, the practicing tax attorney and retired humanities professor continue to discover more images and add to the collection "probably as long as we breathe."
Editorial Board Panel Lunch and Learn
Thursday, June 6 2013 11:30 a.m. – 1:00 p.m.
Join us for a Lunch and Learn to learn about the development process of an editorial cartoon from concept to publication. Our Editorial Board Panel will feature former Tallahassee Democrat Editorial Page Editor and current County Commissioner Mary Ann Lindley; retired Tallahassee Democrat political reporter Bill Cotterell; and Andy Marlette, the Editorial Cartoonist for the Pensacola News Journal. Panel members will tell stories about their experiences on editorial boards and the discussions that developed during the creative process. Bring your own lunch or reserve a box lunch by calling (850) 487-1902 by June 3, 2013. Box lunches are $5 for Museum Members and $10 for non-members.
Opening Reception
Tuesday, March 12, 2013 5:00 p.m. – 8:00 p.m.
Join us for the opening reception as we host Anne Mergen: Florida Cartoons – Trace the Power of the Editorial Cartoon, on March 12 from 5:00 p.m. until 8 p.m. at the Florida Historic Capitol Museum. This temporary traveling exhibit produced by HistoryMiami features the work of editorial cartoonist Anne Mergen. Meet Dr. Paul George, Professor of History at Miami Dade College, and Mergen family friend as he leads a Gallery Talk at 6:00 p.m. and discusses the breadth of Mergen's cartooning career spanning more than twenty years.
The Florida Historic Capitol Foundation, as the Direct Support Organization for the Museum, extends its deepest appreciation to the following Sponsors and Partners for their support and efforts in making this exhibit possible: