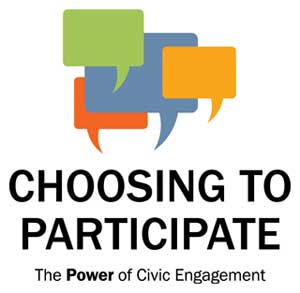 The exhibit features eleven panels developed through the partnership of the Smithsonian Traveling Exhibition Service and Facing History and Ourselves to encourage dialogue, engagement, respect, and participation in our communities. Each panel highlights the choice between being a participating upstander or a passive bystander in our communities and reminds us that no action to improve society is too small.
Visitors will also explore the impact of organizations and programs that strive to encourage the civic education and engagement of Florida students. Objects and audiovisual materials on loan from the Florida Law Related Education Association, the Bob Graham Center for Public Service, the Lou Frey Institute of Politics and Government, the Center for Leadership and Social Change, the Able Trust's Florida Youth Leadership Forum, the Florida Youth Leadership Academy and Youth Leadership Tallahassee will reveal how students in Florida feel about the importance of civic participation and being active participants in their communities.
The Florida Law Related Education Association, our event partner and reception sponsor, will host the exciting opening program Engaged, Not Enraged - Civility, Politics, and Civic Engagement from 4:30 p.m. to 6:00 p.m. Presenters and participants will discuss the significance of civility in our social and political interactions, discern the impact and influence of incivility, and examine avenues for effectively engaging in public life. Nate Garvis, founder and author of Naked Civics, will strip away the politics and focus on the power of ordinary citizens to help move America forward using our civic institutions for the common good. The event will be moderated by Michael Allen, Professor of Law at Stetson University College of Law. Naked Civics will be available for purchase at the event, and Mr. Garvis will participate in a book signing following the program.
Choosing To Participate: The Power of Civic Engagement
August 27, 2013 – August 10, 2014
The Smithsonian Institution Traveling Exhibition Service (SITES) developed a series of educational materials for Choosing to Participate including individual lessons and complete units for teachers to implement in the classroom. Additional resources for families include recommended film and reading lists. To obtain these resources, please visit SITES Resources page.
Choosing to Participate Lunch and Learn
World War II Veterans and the Civil Rights Movement
July 25, 2014 11:30 a.m.   1:00 p.m.
Bryan Higham, a veteran and graduate student at the University of North Florida, presents his work on Jacksonville's Greatest Generation and the contributions of veterans to the Civil Rights Movement. Higham will share stories about African American veterans who used their military training and experience to pursue political office and leadership positions. Bring lunch or reserve a lunch at 487-1902. Box lunches are FREE for ROTC, active military, and veterans, $5 for Museum Members and $10 for non-members.
Choosing to Participate Curator's Tour
Fourth Friday of each Month, January through July, 2014
11:00 a.m.   12:00 noon
Each fourth Friday of the month in 2014, meet at the Visitor Services Desk at 11:00 a.m. for a special Curator's Tour of the exhibit. Historic Capitol staff will talk about the development of Choosing to Participate and point out interesting tidbits that you may not find on first glance.
The Florida Historic Capitol Foundation, as the Direct Support Organization for the Museum, extends its deepest appreciation to the following Sponsors and Partners for their support and efforts in making this exhibit possible: