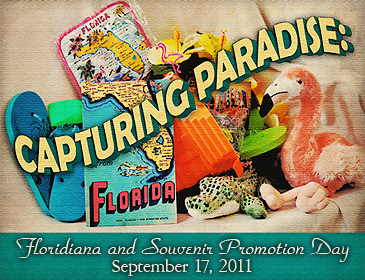 "Did you bring me a souvenir from Florida?"
Capture a little paradise with a visit to the Florida Historic Capitol Museum! Join us as we celebrate Floridiana* and get a chance to take home an original Florida souvenir of your own.
Flamingos, and alligators and dolphins, Oh My! The first 300 visitors will take home a free Florida souvenir donated by tourist attractions from around the state. Several lucky visitors will receive Florida souvenirs as door prizes to be given away at the top of each hour. For those young visitors completing the Remembering Paradise scavenger hunt throughout our exhibit room, you will get a chance to win one of two Florida Souvenir Gift baskets filled with fun!
Florida vacations and souvenirs go together just like Florida sunshine and sandy, white beaches. Tourists have purchased untold numbers of Florida souvenirs throughout the years, reflecting the history and culture that is uniquely Florida. View these one-of-a-kind travel treasures on display in the Florida Historic Capitol Museum's current exhibit: Remembering Paradise: Souvenirs of Historic Florida Attractions. In conjunction with the exhibit, our program Capturing Paradise will feature the following Floridiana and donated souvenir give-a-ways:
Admission tickets for 2 adults to Alligator Farm in St. Augustine, door prize for 2 lucky winners
Ron Jon Surf Shop bumper stickers from Cocoa Beach
Dolphin Harbor Plush toys from Miami Seaquarium, 8 lucky winners
Stickers from Sea World and Busch Gardens
Florida Highwaymen coffee mugs (2), courtesy of Historically Florida
Manatee Village Historical Park, Brochure/Photo set
Florida Legacy: Land, Legend & Leadership - copies of this elegant, full color coffee table book featuring the richly evocative paintings created by Christopher Still for the Florida House of Representatives Chamber, will be given as door prizes.
For More Information contact us at (850) 487-1902. Follow us on FaceBook as we add to our list of Floridiana and Souvenir Give-a-Ways!
*Material, such as documents, anecdotes, or artifacts distinctively bearing on or characteristic of Florida or its people or culture.