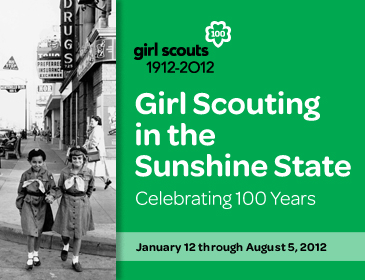 The Girl Scout Council of the Florida Panhandle (GSCFP) and the Florida Historic Capitol Museum announce the opening of Girl Scouting in the Sunshine State: Celebrating 100 Years on January 12, 2012 at 6:00 p.m. The exhibit, which runs through August 5, 2012, celebrates the 100th Anniversary of Girl Scouts in Florida and demonstrates the important relationship between Girl Scouts and Florida's state and local governments through:
The support of Girl Scout programs by state and local governments
The influence of Girl Scouting on future political leaders
The positive contributions of Girl Scouts to their local communities
The use of state and local government facilities by Girl Scouts.
The exhibit features historic Girl Scout uniforms, handbooks, badges, photographs, newspaper articles, and camping gear from all across the state of Florida representing the seven regional Girl Scout Councils. The exhibit was co-produced by a team of Girl Scouts with 15 members along with a committee of adult Girl Scout volunteers and leaders.
"I've learned so much more about Juliette Gordon Low's life," said Courtney a 10th grade Girl Scout Senior from Panama City, FL. "She had an amazing impact on the lives of girls, not just here in America, but across the world."
Founded on March 12, 1912 by Juliette Gordon Low in Savannah, Georgia, Girl Scouting has grown from the original 18 members to over 3.2 million girls and adults, and 50 million men and women alumni.
During the past 100 years, girls have learned skills relevant for their time. During World Wars I and II Girl Scouts did their part by helping to selling defense bonds, by growing victory gardens, and by collecting scrap iron.
Today girls are staying relevant to our time by earning badges on topics such as: Public Policy, Website Designer, Public Speaker, and Philanthropist. Girls remain true to the Girl Scout Promise and Law; which still encourages community service, using resources wisely, and being a sister to every Girl Scout.
"Girl Scouting has a rich cultural history," said Raslean M. Allen, CEO of GSCFP. "This exhibit gives our community the chance to look back at the last 100 years and see the impact Girl Scouting has made in our communities, across the state of Florida, and across the nation."
The National Organization, Girl Scouts of the USA, is celebrating 100 Years of Girl Scouting on March 12, 2012 with the Year of the Girl. The Girl Scouts of the Florida Panhandle Council invite girls from kindergarten to twelfth grade, to join the adventure and empower themselves through courage, confidence and character to make the world a better place. Currently, the Council serves 6,024 girls and 1,980 volunteers across 19 counties of the Florida Panhandle. To volunteer or join Girl Scouts, contact your local council office at 1-888-271-8778 or visit www.gscfp.org. Girl Scouts of the Florida Panhandle, Inc. is a United Way Agency.
The Florida Historic Capitol Foundation, as the Direct Support Organization for the Museum, extends its deepest appreciation to the following Partners for their support and efforts in making this exhibit possible: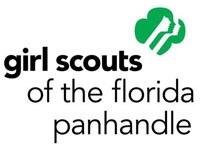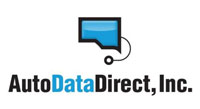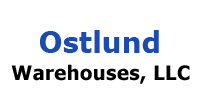 Exhibit Opening and Reception
Thursday, January 12, 2012, 11:00 a.m.
6:00 p.m. – 8:00 p.m.
The exhibit will be opened in grand style in the restored 1902 House Chamber beginning with a flag ceremony. The Honorable Marjorie R. Turnbull, former State Representative and past Board Member of the Girl Scout Council of the Apalachee Bend, and honored by the Council in 1999 as a Woman of Distinction, will preside as the keynote speaker. Visitors will also have an opportunity to meet and interact with Juliette Gordon Low, as performed by historic interpreter Dana "Boots" Bryan.
World Thinking Day
Saturday, February 4, 2012
10:30 a.m. – First Ceremony
2:00 p.m. – Second Ceremony
World Thinking Day gives girls the opportunity to empower themselves by learning about cultures the world over. Celebrated annually, Girl Scouts and Girl Guides, across the world honor each other through activities and games. World Thinking Day not only gives girls a chance to celebrate international friendships, but is also a reminder that Girl Scouts of the USA is part of a global community—one of nearly 150 countries with Girl Guides and Girl Scouts.
Girl Scout's 100th Anniversary Celebration
Saturday, March 10, 2012,
1:30 p.m. &ndas; 3:30 p.m.
From October 1, 2011 through September 30, 2012 girls across the Florida Panhandle and across the nation are celebrating the 100th year of Girl Scouting with the Year of the Girl. Founded on March 12, 1912 by Juliette Gordon Low in Savannah, Georgia, Girl Scouting has grown tremendously since that time.
The celebration at the Historic Capitol Museum will include a flag ceremony and a reading of a proclamation on the historic front steps, followed by Birthday Cake for all! The celebration will continue inside the beautifully restored 1902 historic Senate Chamber as former Girl Scouts, now adults, share their scouting experiences.
Closing Reception and Reunion for Girl Scouts, Alumnae and Friends
Sunday, August 5, 2012 2:00 – 4:00 p.m.
Senate Chamber, 2nd Floor Rotunda
Join us as we celebrate with Girl Scouts and Friends for this Alumnae Reunion. Bring your stories and share your scouting memories as we close the exhibit in grand style. The program will include a traditional flag ceremony, a "Remembering" time to share scouting experiences, and a visit from Girl Scout's founder, Juliette Gordon Low, as portrayed by historic interpreter Dana "Boots" Bryan. Refreshments will be served in the Rotunda followed by the last visit to the exhibit before closing.