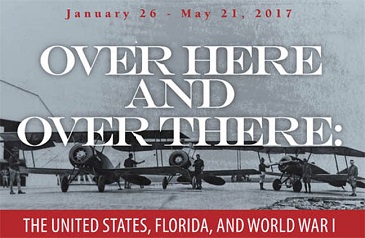 To mark the 100th anniversary of the United States entry into World War I, the Florida Historic Capitol Museum is pleased to host Over Here and Over There: The United States, Florida, and World War I. The exhibit will feature two photographic exhibits from the National Archives Traveling Exhibit Service, as well as numerous images and artifacts related to Florida's participation in WWI.
The National Archives exhibit Over Here and Over There depicts WWI from the twin perspectives of those on the home front and those at war. The exhibit will be hosted in two parts. Over Here: Americans at Home in World War I will be on display January 26 to March 16. It consists of 40 images capturing the home front wartime experience, including patriotic rallies, draft riots, military training, suffrage protests, bond drives, and more. Over There: Americans Abroad in World War I will be on display April 6 to May 21. The Great War is brought to life in 40 photographs depicting battle fronts, behind the lines scenes, and the war's end.
Throughout the run of both exhibits and in the interim, the Museum will highlight Florida's role in the Great War. Using artifacts, photographs, and interpretive panels, the exhibit will explore the part Floridians played in the war effort. The exhibit will also include "Naval Air Station of Florida," a children's area that gives young visitor the chance to camouflage ships, build biplanes, and write a letter to our troops. Throughout the run of the exhibit there will be a number of WWI related programs, including a World War I Trivia Night and a Lunch and Learn discussion of the Red Cross during World War I.
Free Admission: Donations are accepted and 100% is used to support education, exhibits, and volunteer programs.
This exhibition was created by the National Archives and Records Administration, Washington, DC, and is traveled by the National Archives Traveling Exhibits Service.
Service cards and certificates of Florida enlistees
Gas masks, weaponry, and other equipment and uniform items from U.S. and German soldiers
Medal and insignia from soldiers who served
'Trench art' vases made from spent shell casings
iPad station with an interactive map of Florida's WWI monuments
"Naval Air Station of Florida," an interactive children's area