Documents in the PDF format require the free Acrobat Reader.
---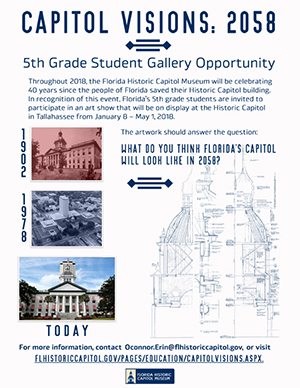 5th Grade Student Gallery Opportunity
Throughout 2018, the Florida Historic Capitol Museum will be celebrating 40 years since the people of Florida saved their Historic Capitol building. In recognition of this event, Florida's 5th grade students are invited to participate in an art show that will be on display at the Historic Capitol in Tallahassee from January 8th – May 1, 2018.
The artwork should answer the question:
WHAT DO YOU THINK FLORIDA'S CAPITOL WILL LOOK LIKE IN 2058?
Guidelines
Students should create a 2D artwork imagining what you think Florida's Capitol building/s will look like in the year 2058
Each school must select only the best three (3) entries to be displayed. All students receive a certificate of participation.
Work can focus on the architectural elements of the current buildings, both historic and current Capitols, or can be more abstract.
Art must be 2-dimensional, 8.5" x 11" and on a surface no thicker than canvas board.
Can be mixed media, paint, colored pencil, pastel, etc.
See more in depth guidelines below in the PDF.
If your school would like to participate, register your interest by emailing OConnor.Erin@flhistoriccapitol.gov
---