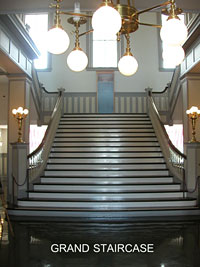 101 First Floor Rotunda
Welcome to Florida's Historic Capitol. This Historic site and museum has two floors of exhibits and restored areas focusing on Florida's political history. Originally completed in 1845, the building is restored to its 1902 appearance.
The museum includes audio and video experiences, photographs, objects and descriptions interpreting all three branches of Florida's government: executive, legislative and judicial.
Visit the reception desk for current information on events and exhibits. Also, peruse our gift shop, "Historically Florida."
In 1902, architect Frank Milburn designed this grand staircase to impress first-time visitors. This beautiful reproduction was based on a 1912 photograph of Secretary of Agriculture Benjamin McLin lying in state at the foot of the staircase.